Hey – do you like boy bands? Like, a LOT? Was your March Madness bracket busted? If you said yes to the previous three questions, you're in the right place! Dana and I are back to rank our favorite boy band pop jam, and this bracket definitely isn't busted (literally, we omitted the British boy band Busted).
Dana and I had lots of back-and-forth on which songs to select and ultimately went with the below bracket. Before we begin, let's have a moment of silence for our dead soldiers that were not selected:
S Club Party (S Club) – As much as we want them to be a boy band, S Club 7 consists of primarily women.

Tearing Up My Heart (NSYNC) – a much better song than Bye Bye Bye, but not as big of a hit.

Larger Than Life (Backstreet Boys) – After much deliberation, we decided we could only include one NSYNC song and one BSB song. It's only fair.

Faded (SoulDecision) – It appears that I'm the only person who knows this song.

U + Me = Us (Calculus) (2gether) – TBH I'm not sure why we didn't pick this one. Dana and I took Calculus together and we're not sure if the teacher loved us or hated us for talking nonstop. Anyway, at the end of the day, we don't like math, so this song had to go.

It Happens Every Time (Dream Street) – Actual quote from Dream Street when they were once again omitted from a boy band related article.
Here are the songs we'll be ranking. Spotify playlist can be found below – choreography tutorials not included. If slow jams are more your style, check out our boy band ballad bracket.
Best Boy Band Pop Jam
Cool It Now (New Edition) vs. Motownphilly (Boyz II Men)
Everybody (Backstreet's Back) (Backstreet Boys) vs. MMMBop (Hanson)
Liquid Dreams (O-Town) vs. When The Lights Go Out (5ive)
Juliet (LMNT) vs. Can I Get Your Number (A Girl Like You) (No Authority)
Bump, Bump, Bump (B2K) vs. Where The Party At (Jagged Edge)
Burnin' Up (Jonas Brothers) vs. What Makes You Beautiful (One Direction)
Summer Girls (LFO) vs. Give Me Just One Night (Una Noche) (98 Degrees)
Bye Bye Bye (NSYNC) vs. You Got It (The Right Stuff) (New Kids On The Block)
Round 1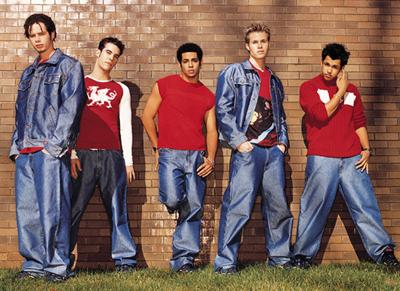 Cool It Now

vs. Motownphilly
Emily: Truthfully, the only New Edition song I know is Candy Girl, which is mediocre at best, but Dana assured me that "Cool It Now" is fantastic. I've now listened to the song and holy crap, have these guys hit puberty?! This song is cute and all, but it has nothing on Boyz II Men. Motownphilly will always get me out on the dancefloor, which will in turn always get me the response "calm down, you're a Jew from Maryland." The beat is bumpin' and the acapella breakdown is everything. The Boyz will advance II Men in round 2, and we'll leave New Edition in round 1 so they can pursue their side projects like Bell Biv Devoe at best and DUIs and domestic troubles at worst :-\
Dana: Okay, yes, Ralph Tresvant's tiny squeaky voice is a lot to handle in "Cool It Now", but that does not stop this song from being an absolute banger. And, no, they had NOT hit puberty, thank you very much. Anyway, with all of that said, there is no real competition here between these two tracks. I have vivid memories of singing and dancing to "Motownphilly" and the rest of Cooleyhighharmony in the living room of my townhouse growing up truly thinking that if I sang my little heart out, I could be a member of Boyz II Men, never mind the fact that I was not even yet a Girl II Woman. "Motownphilly" lives forever in my heart, and it takes this round.
Everybody (Backstreet's Back) vs.

Mmmbop
Emily: "Everybody" can really only be described as iconic–it's the song that put the Backstreet Boys on the map. The video is super elaborate and has a fun Halloween-ish theme–it's set at a haunted house where Nick becomes a mummy, Brian becomes a werewolf, Howie becomes a vampire, Kevin becomes some sort of Jekyll/Hyde situation, and AJ becomes the Phantom of the Opera. As a BSB-obsessed tween, I remember reading that Kevin's makeup in this video took seven hours, which is the longest that anyone's paid attention to Kevin ever.
MMMbop was arguably a one-hit-wonder, but definitely a 90's classic. The verses to this song are decent considering the band's median age was, like, 11, but did we ever really figure out what MMMbop means?  I watched the video for some answers and unfortunately just left with more questions–the vid looks like a hodge podge of 90s sitcom intros, except nobody brought in The Nanny to take care of these boys. In the grand scheme of memorable 90's jams, Backstreet definitely wins this round. We'll leave Hanson with their babysitter in round 1. Don't take it too hard, boys, your hair is still better than mine.
Dana: In our last bracket, Emily and I discussed at length how great BSB's slow jams are. "I Want It That Way" won our entire slow jam bracket, and for good reason. It's amazing and ridiculous and there are a lot of open white shirts blowing in the wind at an airport. Their pop jams, however, are not quite on the same level, but still pretty great nonetheless. I will always have the image of them as weird monsters burned into my retinas, and also will always get this dance confused with the dance from "Larger Than Life", which I do at every wedding no matter what's playing.
Now, I do want to take a moment to discuss "MMMbop". "MMMbop", along with other classic '90s hits like "Lovefool" and "Semi-Charmed Life", is one those songs that sounds really happy, but is actually super dark. It's about seeing your life pass you by, and that there's nothing you can do about it. In an "MMMbop", everything's fucking GONE, man!!! Sorry, I got a little carried away. Anyway, "Everybody" is actually fun and danceable and "MMMbop" gets me all existential and depressed, so I guess BSB takes it. I need a drink.
When the Lights Go Out vs.

Can I Get Your Number (A Girl Like You)
Emily: Five/5ive/5 never quite caught on as a band in the US, but they did produce this memorable single. It's a bit more risque than some of the other boy band jams in this bracket, but that's part of what makes it so great. Anyway, if 5ive never *quite* caught on, No Authority never caught on at all. You might not remember this one, and if that's the case, consider yourself lucky. I couldn't even listen to "Can I Get Your Number" in its entirety; it's so bad. It's like someone googled–sorry–asked Jeeves–"formula for successful boy band hit" and just followed an equation. There's not even a video for it. They rhyme brunettes with "hot redheads" and they sing about phone numbers with  seven digits, which is just wildly inaccurate. NEXT.
Dana: I've been east, I've been west, even all around the world, but I've never heard a worse song than "Can I Get Your Number" by No Authority, who are also probably in the running for least-attractive-boy-band-ever. Honestly, though, even if "When The Lights Go Out" was up against better competition, I would likely give them the W. This song is THE BEST. It's one of the catchiest, most danceable choruses in all of boy band land, plus when that guys says, "Second verse girl," it never fails to make me laugh (though I don't think that was the point.) Also, I always thought the lyrics were, "Girl I swear you will, so come to me," and I was like DAMN DOPE DOUBLE-ENTENDRE! But now I realize they're saying "succumb" and it's still good, but I'm a little disappointed.
Liquid Dreams

vs. Juliet
Emily: You might not remember LMNT by name, but you'll definitely remember their single "Juliet" when you listen to it. This song is so catchy and cute, squeee! The vid is set in a laundromat which I can really relate to as a New Yorker. Also, LMNT is so diverse for a 90's/ early 2000's boy band–it's like the UN up in here! I'm into it!
O-Town was much more memorable than LMNT, and while this song was their debut single, it's pretty weak (and we were all grossed out by the title back in the day). This video is terrible and the band's dance moves are weak AF. These guys were cast on Making the Band; was there not a dance round?! Don't get me wrong, O-Town had some great moments, but ballads were definitely their strong suit, and we paid tribute to this in our ballads bracket. LMNT advances in hopes of a Cinderella story, and we'll leave Ashley Angel to his life as an Instagram THOT.  
Dana: And on the sixth day of boy band-dom, the boy band gods created LMNT, and they sayeth unto TRL, "We did it. We created the perfect racially-diverse boy band. We can now rest." Forgetting the fact that Matthew Morrison was originally the fourth member of the band (jk, I WILL NEVER FORGET), LMNT was made up of somewhat talented, super handsome dudes who didn't quite make the cut on the 2000 hit show Making The Band. This is particularly important in the context of this bracket because O-Town was, of course, the band that was created from Making The Band. In comparing the two bands, we need to focus on their best-known tracks — in this case, "Liquid Dreams", probably the biggest hit about nocturnal emissions to ever be on the radio, and "Juliet", in which Poor Man's Andrew Garfield tries to convince a woman at a laundromat to fuck him by moodily sitting on the floor with a guitar that he maybe doesn't actually know how to play. PMAG aside, their dance moves are pretty dope and the song is really catchy and kind of sweet. I have so many issues with "Liquid Dreams" and its objectification of every female celebrity of the time that I don't have the space nor energy to go into it, so let's just say "Juliet" wins this round.
Bump Bump Bump

vs. Where The Party At
Dana: In our last bracket, we again pitted B2K and Jagged Edge against each other. That time, B2K came out victorious, due to my unnatural obsession with "Why I Love You", and the fact that I had no recollection of "Walked Outta Heaven" (even in writing this, I had to return to that bracket so I could remember what song it was.) This time, though, we have a very different competition. While both tracks were massive hits at the time, and both had extremely of-the-time features (P. Diddy for B2K, Nelly for Jagged Edge), only one has truly stood the test of time. I don't care that "Bump Bump Bump" is probably one of the earliest mainstream odes to twerking; I can still sing "Where The Party At" in a bar and everyone around me would go "OH-OHHHHH"! Jagged Edge, I'm pleased to say that this time, you make it through round one.
Emily: I'm loving this this faux Jagged Edge / B2K rivalry we've created. It's too bad we're about 10-15 years too late, because this could've really caught on. Anyway, as Dana mentioned, both of these songs were club bangers (trust us, we were 10 years old and regulars at the club scene), but "Where the Party At" has made a regular appearance on my pregame playlists to this day, and "Bump Bump Bump" has not. Jagged Edge wins this round.
Burnin' Up

vs. What Makes You Beautiful
Emily: We now reach the "late-2000's" bracket match-up, featuring the Jonas Brothers and One Direction. Dana and I have a LOT of feelings about "Burnin' Up," this was one of our high school jams of choice and we love (Kevin? Joe? Nick?)'s exclamation "RED DRESS!" in the background in the second verse–I like to think this was the inspiration for the dancing girl emoji. However, this song (and this band, for that matter) never really caught on like 1D did. One Direction was the brainchild of Simon Cowell, and we know that everything he touches is underage turns to gold. This band, and this song, is no exception. The Jonas Brothers are one of those "parts > sum" situations–Joe and Nick had a lot more success after tossing their purity rings and pursuing side projects (DNCE and steroids, respectively), and Kevin upgraded from "the ugly one" to "dad." A solo artist bracket might be a different story, but we have to give this round to One Direction.
Dana: Since living in LA, I have seen Joe Jonas twice and Nick Jonas once, and let me tell you, Nick Jonas's biceps are the REAL DEAL. I don't even care if he's 'roided up. Anyway, as Emily said, our love of "Burnin' Up" knows no bounds. I will sing that baby at the top of my lungs for eternity. However, despite all of the gender issues at play in "What Makes You Beautiful"… it's just a really good song. Genuinely, it's just incredibly well-written and catchy and makes you want to sing along. Sorry, JoBros, I think I have to agree with Emily and give this one to 1D.
Summer Girls vs.

Give Me Just One Night (Una Noche)
Emily: It's been almost 20 years (!!) since "Summer Girls" was released but this song is still such a clutch summer jam. It boosted A&F's Q3 sales twofold (source: vague memory of friends' older siblings). It's so nonsensical yet it works so well. They reference some of my favorite 90's moments, including Home Alone, fun dip, and Paul Revere (I failed history). They even mention  "Candy Girl" by New Edition, so our bracket has really come full circle.
98 Degrees, on the other hand, were definitely more known for their slow jams, but they did step it up with upbeat track "Give Me Just One Night (Una Noche)" for their sophomore release. This song has a "Latin" flair in the same way Chipotle is "authentic Mexican food." It's a fun jam, but let's be honest, did you remember it before reading this? When listing five memorable 98 degrees song, this definitely won't be on it. Also, I can't even complete that task, so disregard. MY POINT is that while catchy, this is nowhere near as iconic as Summer Girls. We'll bid adieu to Nick Lachey and the ugly one  in round one.
Dana: I know a woman in her thirties who, to this day, goes to every 98 Degrees show, and I'm pretty sure has met Nick Lachey upwards of 20 times. I pray she doesn't see this, simply because I am bound to disappoint her. I'm just going to say it, "Una Noche" kind of sucks. It's so clearly an attempt to capitalize on the rising Latino population of America that it's pretty embarrassing. Now, don't get me wrong, "Summer Girls" sucks, too. I've never told Emily this, but I think it's kind of the worst. However, I also think it's well aware that it's the worst, and that self-awareness makes me appreciate it for what it is: completely inane, idiotic, meaningless pop drivel. Wait, where was I going with this? Oh, right, "Summer Girls" talks about Chinese food, so it wins.
Emily: How many shows is 98 Degrees still playing that she goes to "all" of them? One noche is plenty.
Dana: More than we ever wanted or needed.
Bye Bye Bye vs.

You've Got It (The Right Stuff)
Dana: Though I had initially thought it would be very funny to pit NKOTB against their BFFs BSB, when we eventually landed on these brackets, I thought this one might end up being a tough choice. Both iconic boy bands, both songs that have stood the test of time to be the most memorable song by each boy band. Truthfully, though, it wasn't difficult at all when I actually listened to the songs. Look, there are few things cuter than tiny Joey McIntyre lip-syncing "the right stuff" as a much older and deeper voice sings it. However, up against "Bye Bye Bye", "The Right Stuff" falls flat. Regarding "Bye Bye Bye", the song itself still comes off as catchy and fun even 17 years later, and there are so many amazing things about the video: the iconic dance moves, the proto-Ramsay Snow gleeful human-hunting female villain, and Justin Timberlake hip-thrusting at the camera, to name a few. Sorry, NKOTB, JT and the boys take this round.
Emily: I'll be honest–I don't love "Bye Bye Bye." NSYNC has way better songs. However, in the grand scheme of boy band jams, it's definitely iconic. The marionette video is cool (albeit kind of creepy), the square room they dance in is the precursor to the "Hotline Bling" video, and the dance moves are more memorable than "Backstreet's Back" (WHICH DEEPLY SADDENS ME). NKOTB was iconic for their time, but their time isn't my time. I have to give this round to NSYNC.
ROUND 2 – THE ELITE EIGHT
Motownphilly

vs. Everybody (Backstreet's Back)
E: This round is tough for me because these songs are both so iconic and yet so different; it's deceptively hard to compare Boyz to Boys. Ultimately, I have to go with Backstreet's Back – I think the song and the video were both more memorable. Plus, calling one of your debut singles your reunion track is a power move that we have to respect.
D: To Emily's point, this is a toughie. I think "Motownphilly" is the jam of all jams and honestly one of my favorite songs ever, but "Everybody (Backstreet's Back)" may be the better boy band jam, technically speaking. "Motownphilly" didn't have the swoon-worthiness that BIIM's earlier hit "End of the Road" had, and "Everybody" has iconic dance moves and made you think that you had known about this group forever. Speaking of which, these songs actually have a lot in common. In both songs, the band name-checks themselves, say that they're "back," and, in doing so, provide their fans with seemingly deep backstories. It's actually kind of freaking me out how many similarities there are between the two tracks, and makes me think that maybe BSB stole the entire premise from BIIM??? Oh, no… I'm second-guessing myself…
When The Lights Go Out vs.

Juliet
E: Two underrated hits from two underrated boy bands. I'll be honest, I'm still fangirling over "Juliet," but this round belongs to 5ive. Their song is catchier, it'll get you out on the dance floor, and as noted above, the not-so-subtle lyrics have me clutching my pearls. Also, one of the members of the band literally goes by "Abz," which is amazing and totally warrants the fact that this is still on your gym playlist. 5ive advances and hopes for a slam dunk (da funk) in the final four.
D: In my mind, this isn't even up for debate. 5ive (or, as Emily and I like to call them Five-ive) was in a Disney Channel Original Movie. Was LMNT? No? Sorry, LMNT, you lose. The band that was in Smart House will always beat you.
Where the Party At?

vs What Makes You Beautiful
E: I never thought the day would come where I'd compare Jagged Edge to One Direction in an epic showdown, but life is full of surprises. I love both of these songs, but if we're ranking pop jams specifically, I have to go with One Direction. Plus, I love the intro bars of "What Makes You Beautiful," cowbells and all. It sounds like I'm in a movie and I just came up with an idea that's seemingly mischievous but ultimately harmless, like dressing up the neighbor's dog in clothing or stealing the teacher's chalk and erasers.
D: I… I honestly don't even know where to begin on this. These are two diametrically opposed songs. It's like saying, "Do you want ice cream or a Tesla?" Like, yeah, I want both but who's paying for them and is this a trick? Anyway, I guess Jagged Edge is more of a man-band then a boy-band, so for that reason, I'm giving true "boys" (like, actually under 18 at the time) 1D the edge.
Summer Girls

vs. Bye Bye Bye
E: Just like the girls stop by for the summer, LFO stops by for a couple of rounds but ultimately has gotta go (ACCORDING TO DANA). I'll let Dana write the convincing argument while I mourn.
D: This was a hotly contested debate. My point was that NSYNC's song is one of the most iconic, fun, and well-written jamz of the late-90s FULL STOP. Emily just kept yelling, "BUT BILLY SHAKESPEARE WROTE A WHOLE BUNCH OF SONNETS!" over and over at me, and I didn't really know what to do. Still, after a lot of arguing and crying and discussions about Jennifer Love Hewitt, we compromised and decided that NSYNC would move forward and we would go on a shopping spree to Abercrombie and Fitch this weekend.
E: Actually, I got a great floral dress at A&F last year and I've gotten tons of compliments on it.
Round 3 – THE FINAL FOUR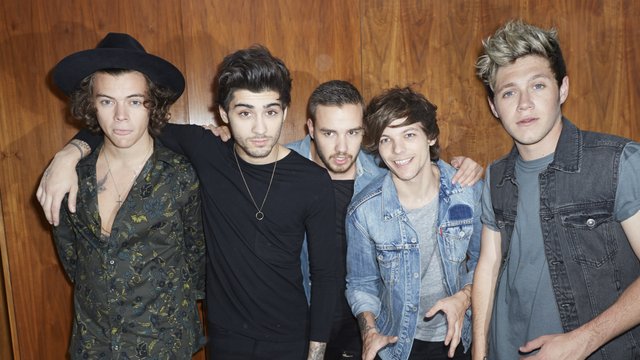 Everybody (Backstreet's Back) vs.

When The Lights Go Out
E: This was another hotly contested debate. I really love both of these songs, I really do. But "Backstreet's Back" has just stood the test of time more than "When The Lights Go Out," even if the latter has a rap verse complete with British accent.  5ive leaves us in the final 4our.
Fun game: next time you match with someone on Tinder/Bumble/etc., message them and ask the following:
Am I original?

Am I the only one?

Am I sexual?
If they don't answer "yeah" to all three questions, they're not worthy of your time.
D: I maintain that "When The Lights Go Out" is a near-perfect jam, but, honestly, I've got to agree: if we're talking about purely iconic songs, you've got to go with "Backstreet's Back". Still, it's not going to stop me being sad about it — I was really pulling for "When The Lights Go Out" to be the Cinderella story of this bracket.
E: Final four is still Cinderella material! They're like Creighton or Boise State or one of those other schools nobody knows about until college basketball season.
What Makes You Beautiful

vs. Bye Bye Bye
E: Everyone else in the room can see it: "Bye Bye Bye" is just a more iconic jam than "What Makes You Beautiful". It was a bigger hit, the dance moves stood the test of time, the marionettes scared my cousin so badly that she couldn't watch the Pay-Per-View concert special (I bring this up whenever I need to win an argument), and let's be honest, the overlap with our peak tween years doesn't hurt, either. "What Makes You Beautiful" is still fantastic, but if we're talking about THE best boy band pop jam, it's not quite up to snuff. We'll leave 1D in the final four.
D: Emily and I were of prime boy band age in the '90s, not the '00s. By the time "What Makes You Beautiful" came out, we were old enough to feel creepy about thinking that Harry Styles was kind of hot in a far-too-young way. No matter how good of a song "What Makes You Beautiful" is (and it's definitely not bad), it doesn't hold the same nostalgia for us that these other songs do, and therefore just can't compare. For these reasons, we have to say bye-bye-bye to "What Makes You Beautiful".
Round 4 – CHAMPIONSHIP
Everybody (Backstreet's Back)

vs. Bye Bye Bye
D: For the second bracket in a row, we come down to an *NSYNC/BSB final two. I guess when you look at it, it makes sense — they're the two that have stood the test of time more than any other, and we still pay attention to them: Nick Carter had a reality show relatively recently; Justin Timberlake is in a long-term relationship with Jimmy Fallon; Howie Dorough got hot. Do you know what literally anyone from O-Town is doing now? No, you don't, ya liar.
Anyway, this decision was debated more than once. Emily wanted "Backstreet's Back" to come in first, I thought "Bye Bye Bye" was a better choice. We debated so much, in fact, that we even considered letting 5ive's "When The Lights Go Out" take the whole thing, but we both knew it wasn't meant to be. So, after BSB swept the slow jam bracket, why does *NSYNC take the crown this time? Because, as much as Brian Littrell's piercing eyes make me want to pull the lever and bring Backstreet Back, we're not voting on who has the highest cheekbones. "Bye Bye Bye" is, in my opinion, the catchiest, most memorable, best-written boy band jam on this bracket, and truly deserves the honor of being named the GOAT.
E: The BSB/NSYNC rivalry is as old as the year 2000 time, and for good reason – both of these bands were incredibly successful and both produced chart-topping, catchy hits that we're still talking about almost 20 years later. As Dana noted, Backstreet will ALWAYS be back, in my eyes, but at the end of the day, "Bye Bye Bye" was catchy as hell, had great dance moves that mirror those of a 4-year old mid-temper-tantrum, and, guess what…. it's gonna be May. Plus, it's about time Joey Fatone was recognized for something more than opening a hot dog restaurant. Backstreet Boys–I love you forever, but NSYNC, I grant you the title of Best Boy Band Pop Jam. Your prize is that iOS recognizes your name and adds an asterisk in front of it (a fun fact that Dana and I learned while writing this article. Seriously, go ahead, try it).
If you've made it this far in our ranking, you're a true boy band fan and you can definitely sit with us. On Wednesdays, we wear Abercrombie and Fitch.