It's been a long summer in NYC, and a hot kitchen in my fifth-floor walk-up that lacks central air. A little heat never stopped me from cooking, though. In June, I reviewed a number of recipes I'd tried over the course of a month. Throughout summer, I continued cooking and baking. Below are some additional recipes I've made recently (linked to the originals–unless noted, none are created by me!), as well as my reviews.
The Good
Enchilada Stuffed Portobello Mushrooms (pictured above) (Sweet Peas and Saffron)
I love a good "vegetable as a vehicle for more food" style recipe, so I knew I had to try these stuffed mushrooms. I found this recipe via a Buzzfeed article, but the recipe originally comes from Sweet Peas and Saffron. These were super easy to make, inexpensive, and can be made in a toaster oven (a plus for my fellow friends without central air in their apartments). One recommendation: I had a lot of leftover corn, beans, and enchilada sauce, so you can probably get at least 6 mushroom caps out of this recipe (I made three).
Chicken Burrito Bowls
This isn't a recipe I found online, but after making the above mushrooms, I decided to stick with the Mexican-style theme. I made chicken breast in my crockpot (literally just chicken and a jar of salsa–so easy) and mixed this with brown rice, lettuce, avocado, and leftover corn/black beans from the above recipe. This was easy to meal prep and great if you want to bring lunch all week but don't have too much time to prepare it.
Three Ingredient Twice-Baked Spaghetti Squash (Home Cooking Memories)
This recipe also came from the "vegetable bowl" Buzzfeed article. After searching 3+ grocery stores for a spaghetti squash, I got the LAST one at Morton Williams. Tears streamed down my face, and I recieved many a weird look from the Morton Williams staff as I made my acceptance speech ("I'd like to thank Buzzfeed for #foodspo and my friend Stephanie for encouraging me to find this squash").
TBH, the hardest part of this recipe was cutting the raw spaghetti squash in half. This is a nearly impossible task, and I was terrified I'd accidentally fling the large knife at myself when pulling it out of the squash. I survived, though–this time, anyway. The recipe is super easy (bake squash, mix strands with sauce, top with cheese, broil) and is good for a light dinner. I made this into two meals but you could totally make it into more if you use it as a side dish rather than a main dish.
Banana Oat Greek Yogurt Muffins (Running with Spoons)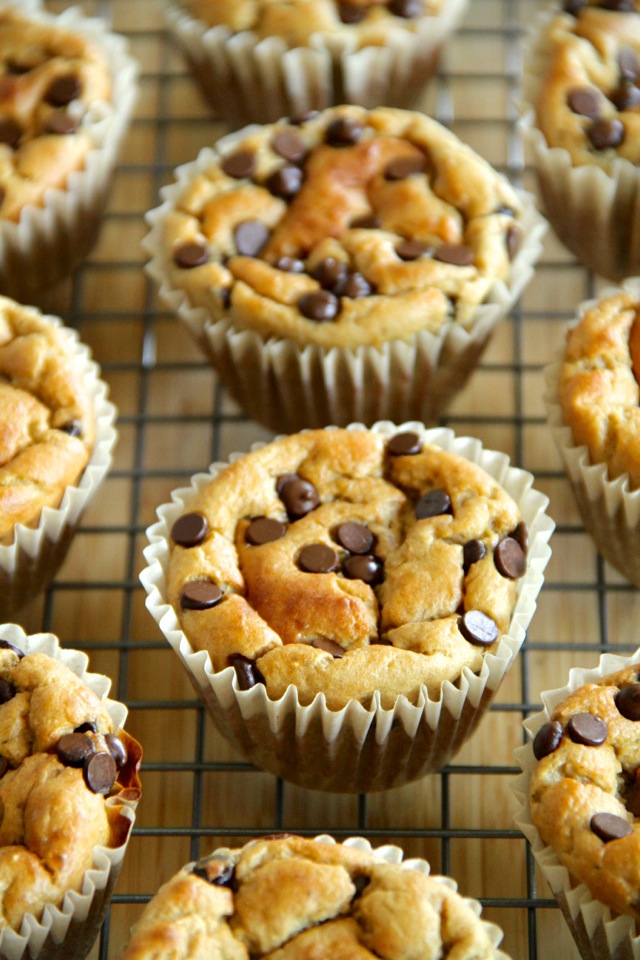 These were so good that I don't think I can make them anymore because I'll consume the whole recipe in a day. I'd pinned this recipe a while ago and finally had all of the ingredients (read: my bananas were going bad) on a weekday afternoon, so I decided to give this a shot. It's an easy recipe, but you will need a food processor or blender to make it. These probably aren't as healthy as the blog makes them sound, but they're great if you're craving a baked good and want something that isn't totally terrible. You can probably make it healthier by omitting the chocolate chips (but like…why would you?)
Slow Cooker Stuffed Apples (Budget Bytes)
My logic for this one was "I want something sweet, I haven't used the slow cooker in a while, and I have all of these ingredients on hand." These were fab and easy to make, and honestly they weren't too bad reheated, either. These are another great option for dessert (especially for my gluten-free friends), but probably aren't as light on calories as you want them to be, given the nuts and the butter (and ice cream, if you add that–I just made the apples). That said, I'm a firm believer that it's still always better to cook/ bake things yourself when monitoring your eating habits–even if it's not the healthiest recipe, you still know exactly what's in your food.
Three-Ingredient Paleo Fudge (Paleo Gluten-Free Eats)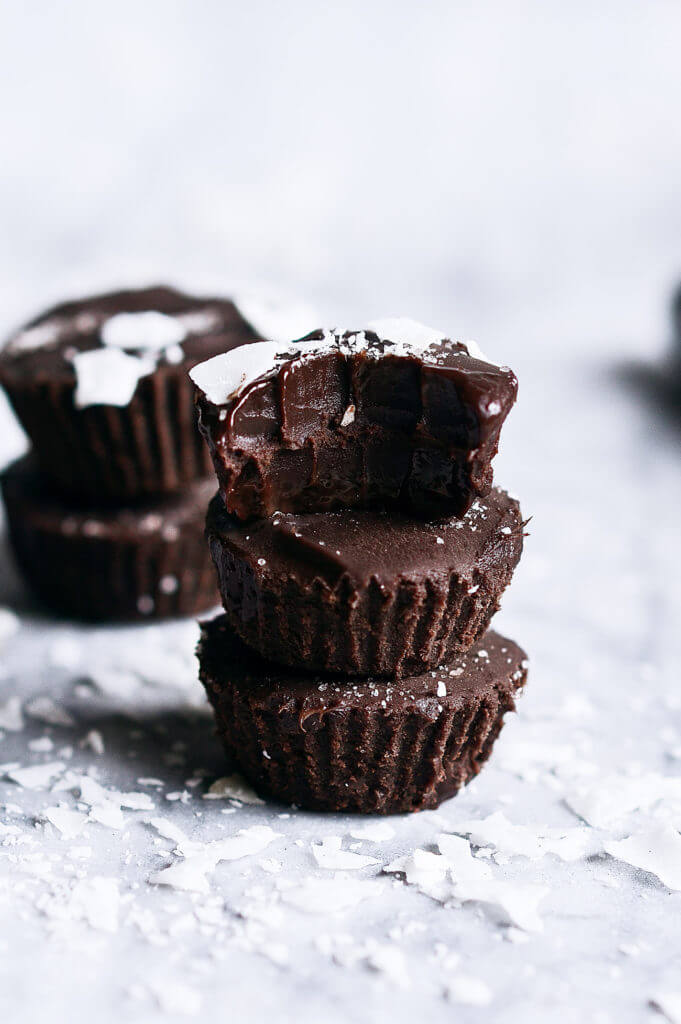 For a brief moment, I thought about trying to be Paleo for a month as a way of "cleansing" my body, but then realized I'm a little too broke to afford the Paleo diet at this time. Regardless, I made these paleo fudge cups, which are decedant and a great treat for those who are Paleo or dairy-free. They also freeze well. Just try not to eat all of them (I failed at this)!
The Mediocre
Baked Cauliflower Bites (Gimme Delicious)
I stumbled upon this recipe and made it almost immediately–less out of excitement, and more because I had riced cauliflower in the fridge that was going to go bad. These are super easy to make and not bad, but I feel like they're a confused dish. The texture is reminiscent of egg cups, but then they have a veggie-like texture when you eat them. The cheese keeps them from being totally healthy, but it's not cheesy enough to feel like a cheat food (or even a satisfying cheese fix, to be honest). They were easy to make, but I'll probably only make them again if I have a surplus of riced cauliflower (first world problems).
Low Carb Lasagna Stuffed Peppers (Wholesome Yum)
This recipe was pulled from the same "vegetable as a vehicle" Buzzfeed article I've noted several times (I pinned a good number of these recipes!). I subbed ground turkey for ground beef. These weren't bad, but they weren't amazing. They were also pretty heavy, despite being stuffed in a pepper, so not an ideal lunch for me (stuffed pepper + barre class = no bueno). I'd recommend this for someone on an Atkins/low-carb diet, but it's hardly a health food since it's, like, half cheese. I probably won't make them again.
The Bad
Nothing bad this time around! Guess I'm just too skilled 😉 That, or I repressed the food memories.