Boxing classes have been a huge hit lately (hahaha get it?!) and one studio in particular leads the pack, in my opinion: Rumble. You've definitely heard of Rumble, they're all over Instagram (in terms of both ads and fit-fluencers' pages), and they have a number of celebrity clients, too. Their logo reminds me of Marshmello (the DJ, not the food), so they have that going for them, too.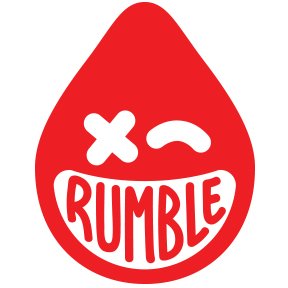 The method was developed by Noah, former Barry's instructor and a snack of a man who takes himself a little too seriously (but let's be real, you're allowed to do that when you have an 8-pack).
The Studio
Rumble's Chelsea/Flatiron studio is chic and Instagrammable, which are important qualities for most of the people who take class here. Upstairs, you'll find a clothing boutique, self-locking lockers, changing/locker rooms, benches where you can hang before class, and a mural of that scene from Pulp Fiction where John Travolta and Samuel L. Jackson decide to make a lifestyle change and put down the Royale with Cheese in favor of boxing gloves (it's a deleted scene).
Downstairs, you'll find the studio itself, which has an instructor "booth" and boxing and weight stations. Rumble uses "aqua training bags" – in layman's terms, teardrop-shaped punching bags filled with water. I personally liked these better than standard punching bags.
The Instructor
I took a practice class fo free with Keisha, who has an extensive dance and fitness background that includes NFL cheerleading and group fitness instruction in NYC (formerly a trainer at Kore). She was absolutely phenomenal and her practice class was better than many regular/paid classes I've attended. Her music was on-point too–good mix of rap and electronic (which is ideal for boxing, IMO).
The Workout
Rumble differs from other boxing classes in that it's split between weight training/HIIT and boxing. You'll switch between sides of the room once or twice during class (my class switched twice). When you're boxing, you'll have ten rounds of different punches (jabs, crosses, upper cuts, hooks). The studio is high tech and projects the "choreography" (for lack of a better term) on the wall, so you can't get lost. Between sets, you'll do moves like boxer situps (sit up and punch the bag) and high knees in place to keep your heart rate up. On the weights side, you'll have a bench station where you'll move through rounds of different moves, including shoulder presses, rows, russian twists, and burpees, just to name a few. Again, there's minimal downtime.
I personally loved the weights vs. boxing aspect of class and found it much more challenging than other boxing classes I've taken  in the city (Shadowbox and Box + Flow, to name a couple). That said, I've heard a number of people say they find Shadowbox more challenging, so maybe I'll need to give Shadow another shot. Regardless, I'm a huge fan of Rumble. I definitely plan to go back!
The Vibe
As mentioned above, Rumble is definitely where you go to see and be seen. In addition to the standard boutique fitness crowd, you'll definitely see Instagram models showing off their best workout clothes and guys who take their macros a little too seriously. Additionally, it seems this gym skews on the younger side for boutique fitness – I'd say the median age is around 27-28.
The Damage
Classes are $34, but newbies can buy one and get one free. A ten-class pack is $320, which is sadly standard for NYC boutique fitness. Rumble is not on Classpass or FitReserve.